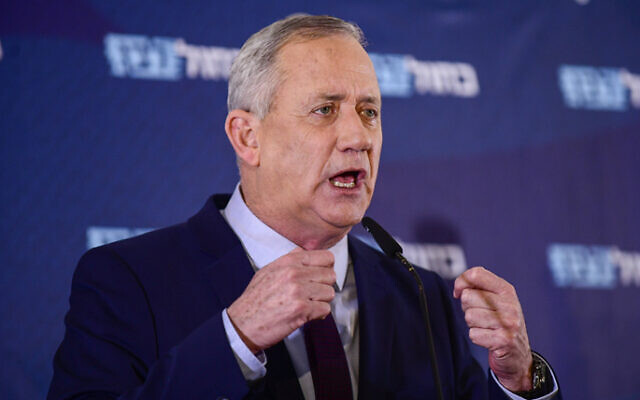 The Knesset decided Saturday night to increase Blue and White leader Benny Gantz's security detail due to a number of death threats made against the former IDF chief of staff following last week's national election.
The Blue and White party said it had informed the Knesset Guard of numerous online threats made against Gantz including direct calls for physical violence against him. The decision to add two additional security guards to Gantz's detail came after he was verbally attacked on his way to deliver a speech Saturday night.
Gantz, after accusing Prime Minister Benjamin Netanyahu of encouraging "hatred and division" in the public, later tweeted a photo of a Facebook status that called "to murder Gantz in Rabin Square" and wrote: "Netanyahu, stop the wild incitement. Don't say you didn't know."
On Friday, after photoshopped pictures were posted on social media of Blue and White and Joint List leaders wearing Palestinian keffiyeh's in the manner of Yasser Arafat, Gantz accused Netanyahu of inciting violence in the wake of the Knesset elections.
"The incitement to violence crosses every line. If we don't wake up, the next political murder is around the corner," he wrote on Facebook hours after an anti-Netanyahu protester was assaulted in a separate incident.
He linked the alleged incitement to Netanyahu's upcoming trial on graft charges and charged that the prime minister was disregarding the results of the elections.
"Netanyahu and his people are intentionally fueling violent and extreme discourse," Gantz said. "Netanyahu is ignoring the election results and is prepared to burn everything on his way to avoiding trial."
"Bibi [Netanyahu], we saw what happened when the incitement runs wild and no one stopped it in 1995," Gantz said, referring to the assassination of prime minister Yitzhak Rabin.