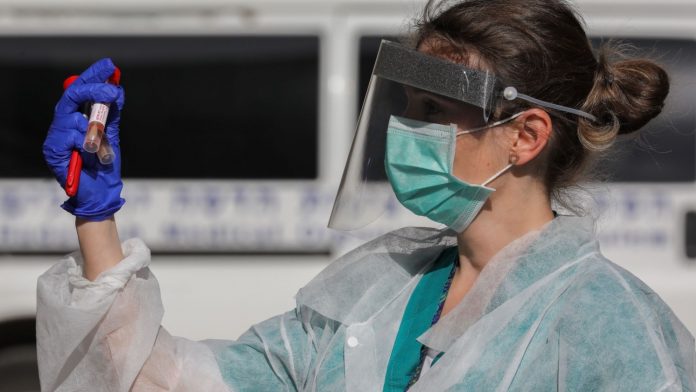 NSW Health late yesterday issued a number of warnings around restaurants in Sydney's inner suburbs, and out in the south west.
Everyone who attended the Apollo restaurant at Potts Point from Thursday, 23 July, to Saturday, 25 July, has been asked to immediately self-quarantine for 14-days and get a Covid-19 test if they have symptoms.
A staff member at the restaurant has tested positive to Covid-19.
Anyone who lives around the Potts Point area, or has visited it in the past 14 days, has also been told to get a Covid-19 test if they experience any possible symptoms, which includes respiratory symptoms, however mild, or a headache, however mild.
Everyone who attended or worked at the Mounties hotel in Mount Pritchard between midnight and 3am on Thursday, 23 July, between 11am to 3pm then 8pm to midnight on Friday, 24 July, and between midnight and 3am on Saturday, 25 July, has been asked to immediately self-quarantine for 14-days and get a test if they have any symptoms.
Everyone who attended the bistro of Pritchard's Hotel in Mount Pritchard between 7pm and 7.45pm on Thursday, 23 July, has also been advised to monitor themselves for symptoms and get tested should any develop.
The foreign minister, Marise Payne, and defence minister, Linda Reynolds, are in Washington DC today ahead of an Australian-US ministerial consultations (Ausmin) meeting, which will take place on Tuesday (or tomorrow US time).
Payne told the ABC's AM program that it was important these talks still take place in person.
We have been having very many meetings and discussions through those means in recent months… but I do think Ausmin meetings are different, they are very significant.
She said that was particularly the case for this meeting, given the global challenges posed by the coronavirus pandemic and the "strategic challenges" posed by China.
Payne said there were "a large range of issues for us to discuss," with aa focus on "further cooperation between our two countries on health security".
She said they were following Covid-19 safety procedures in all meetings and would quarantine for 14-days upon their return to Australia.
– Aged care workers will be able to access paid pandemic leave from tomorrow, in an effort to ensure people do not come to work with mild Covid-19 symptoms. It follows a landmark decision by the full bench of the Fair Work Commission on Monday, which added the two-week leave paid leave entitlement for people working in residential aged care under the Aged Care Award, the Nurses Award and the Health Professionals Award.
The Victorian premier, Daniel Andrews, has repeatedly said that the spread of Covid-19 in Melbourne is largely due to people going to work while sick or symptomatic. Australia recorded a record high number of cases yesterday, thanks to a huge 532 cases reported in Victoria. As of yesterday there were 683 active Covid-19 cases linked to aged care, including staff and residents.
Meanwhile, homeless people in Victoria will be able to stay in a hotel and off the streets until April 2021. More than 2,000 people sleeping rough in Melbourne were moved into hotels when the pandemic was declared in March, to reduce the risk of Covid-19 spreading among those vulnerable communities. This morning, they announced $150m in funding to extend that package until April next year while moving people across into long-term low-cost private rentals.
Andrews said:
This pandemic has laid bare many inequalities – you can't stay home if you don't have one and you can't wash your hands regularly if you don't have access to the bare basics of hot water and soap.
This is our opportunity to help break the cycle of homelessness – because now more than ever, home means stability, security and safety.
In March, we reported that homeless people in Melbourne had been asked to make "significant co-payments" to their hotel accomodation – we're not sure if that will continue.
In other news today, authorities in NSW have urged people not to attend the Black Lives Matter rally in Sydney today, after organisers lost an appeal yesterday to allow the march to go ahead. Organisers have said they will ensure people comply with Covid-19 restrictions in NSW, and wear face-masks and socially distance.