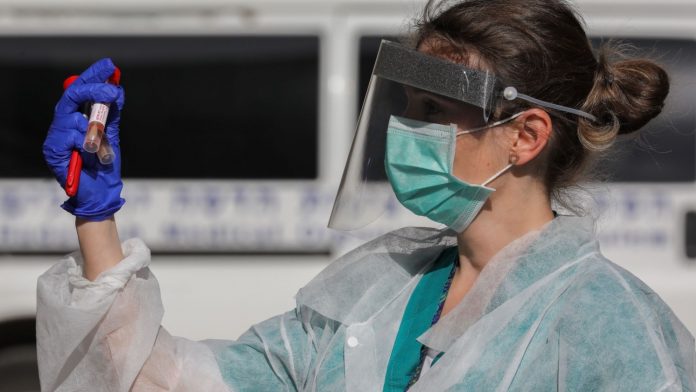 West Australian health authorities are scrambling to find a way to get COVID-infected crew off an iron ore carrier moored off the coast of Port Hedland.
WA Health Minister Roger Cook on Sunday said the government was trying to get the nine remaining crew — seven of whom have coronavirus — aboard the Patricia Oldendorff off the ship and into quarantine in Port Hedland. Of the 12 crew already in quarantine in Port Hedland, two are confirmed to have coronavirus while 10 are waiting on test results.
The ship will need to be deep-cleaned once the remaining crew is brought ashore, giving authorities a logistic headache as it tries to ensure the vessel remains manned throughout the changeover.
Mr Cook said the government wanted to avoid a situation where the Patricia Oldendorff was left without a crew on board and became what was known as a 'dead ship'.
"Obviously it's a tricky scenario. We are undertaking cleaning at the moment of the vessel, then we will have to undertake a deep clean once we've got those crew members off in order to get the new crew members on," he said.
"We are still working on the best way to remove the infected people from the ship and clean it while maintaining the essential operations which are required to keep the ship running."
The owners of the ship have already brought in an alternative crew for the vessel from overseas, but they are under their mandatory two-week quarantine in Perth.
The government has sent security personnel from to Port Hedland to ensure the crew members already onshore remain in quarantine, while the crew's hotel has been surrounded with temporary fencing.
Mr Cook said the authorities had their experiences with the Artania cruise ship and the Al Kuwait livestock vessel — both of which suffered significant outbreaks of COVID-19 ahead of their arrivals in Fremantle earlier this year — to draw on in their handling of the Patricia Oldendorff.
"We took our own experienced security personnel to Port Hedland and they are working with police, who are also on site, to maintain the security arrangements. The perimeter of the quarantine zone has also been fenced off," he said.
"There is no need for the community in Port Hedland or the surrounding areas to be concerned. We have the situation under firm management."
The iron ore ship outbreak means WA now has 16 active cases, although there has not been a case of community transmission in the state for more than 160 days.
Meanwhile, WA police on Sunday said they had fitted a 35-year-old man from South Australia with an ankle bracelet after he entered the state without approval. The man, who entered WA via a bush track north of Kalgoorlie, has also been fined $7,500.
Another three men who breached their self-quarantine periods have also been fined.