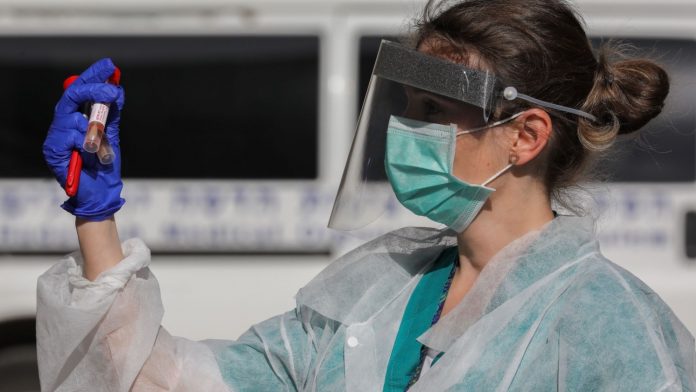 On a day when the one-day death toll from COVID-19 set a new record, Oregon health officials said some long-range forecasting offers a "glimmer of hope" that the rise in infections could be ebbing.
"These projections show that we're at a real turning point," said Dr. Dean Sidelinger, the state's top infectious disease expert. "We can start to see infections drop again if we reduce transmission."
The "cautious optimism" came on a day that the Oregon Health Authority also issued some stark new figures.
Oregon reported nine deaths Friday — a new one-day record. Deschutes County and Umatilla County each had two deaths. The state's death toll is 282. The 28 deaths in the past week account for just under 10 percent of the total since the first death, later identified as Portland dancer Lynn Bryan, 70, who died on March 14.
Sidelinger said that deaths lag behind reports of infections and hospitalizations and the spike in cases on and immediately after the July 4 holiday means the daily death toll is likely to climb higher.
OHA also reported 396 new cases of COVID-19 Friday, bringing the total since the first case appeared Feb. 28 to more than 16,000.
The percentage of tests that are positive climbed over the past week to 6.6%, up from 6.2% the week before. Health officials have said they need the rate to be 5% or lower to keep the pandemic under control in Oregon.
The hopeful signs are a slowing in the rise of cases. A key measurement is the "r factor" — the number for how many people each infected person passes the virus on to. Today, the r factor in Oregon is 1.15.
Oregon Health Authority Director Pat Allen noted a New York Times survey that showed more than 70% of Oregon residents are complying with orders to wear masks in public spaces indoors and when unable to maintain 6 feet of social distance outdoors.
Allen said the state would continue to hammer the "3 Ws": wash, wear a mask and watch your distance from others.
"It's kind of a boring theme, but by dint of repetition, it is getting through," Allen said. "We are seeing signs in the data that people are paying attention."
Allen reiterated that any gatherings have a lower chance of spreading the virus if held outdoors instead of indoors. It's a message Allen said will be repeated and repeated.
Oregon currently has enough hospital beds, intensive care unit beds and ventilators to handle the projected load of cases. While infections are on the rise, the largest group accounting for new cases are age 20-29, making up 22% of the total. They are less likely to suffer acute symptoms, need hospitalization or die.
Sidelinger said an additional 10% drop in the infection rate would push the r factor under 1.0, which would mean a decline in new daily cases.
But any let-up in following the rules could lead to a 10% increase in infections that would show up in more hospitalizations and deaths.
"Cases would keep surging and we would rapidly run out of capacity to treat people who become seriously ill," he said.
Gov. Kate Brown's current COVID-19 state of emergency order runs through Sept. 4, the Friday before the start of the three-day Labor Day weekend. The Memorial Day and July 4 holidays showed spikes in cases immediately afterwards.
Sidelinger said the timing of any announcement is up to Brown, but that the current numbers pointed to an additional extension of the state of emergency.
Allen said the state expected to send out guidelines about possible K-12 school reopening procedures sometime next week.
As of Friday, there have been 4.09 million COVID-19 cases in the United States, with 145,060 deaths, according to the Johns Hopkins University Coronavirus Resource Center. Worldwide, there have been over 15.6 million cases and 636,404 deaths, the center says.
The pandemic continues to set record numbers nationwide. California, Texas and Florida alone accounted for more than 500 deaths on Thursday.
Dr. Deborah Brix, the White House Coronavirus Task Force coordinator, said the three states were having a spike in cases unlike anything since the infection swept through New York this spring.
"What we have right now are essentially three New Yorks," Brix said in an interview with NBC.
Dr. Anthony Fauci, the top U.S. government expert on infectious diseases, told the Washington Post that states where the virus is rapidly rising should reverse their re-openings until they can get the case loads under control.