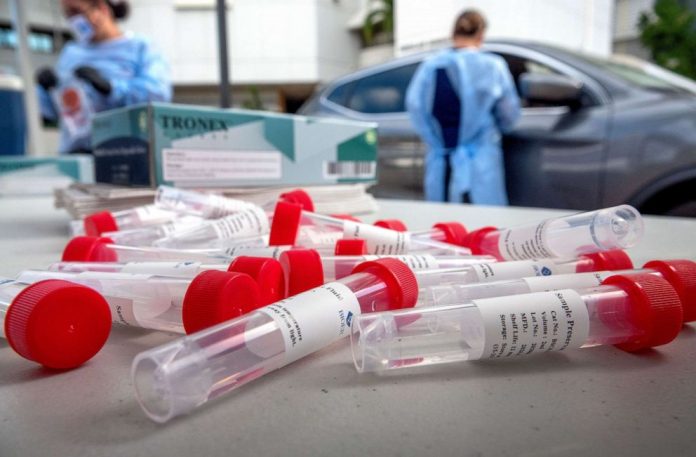 The Florida Department of Health recorded an additional 174 coronavirus-related fatalities in the past 24 hours, bringing the statewide total to 10,067.
Florida had surpassed 9,000 total deaths just last Friday.
The Sunshine State has become one of the worst-hit areas in the United States in recent weeks as COVID-19 infections there rise. Florida's Miami-Dade County has one of the highest tallies of confirmed cases in the nation, second only to California's Los Angeles County, according to data collected by Johns Hopkins University.
– US will allow pharmacists to administer vaccines for kids
The U.S. Department of Health and Human Services will now allow state-licensed pharmacists to order and administer vaccines to children ages 3 to 18.
Health and Human Services Secretary Alex Azar announced the move Wednesday, an amendment to the declaration under the Public Readiness and Emergency Preparedness Act.
"Today's action means easier access to lifesaving vaccines for our children, as we seek to ensure immunization rates remain high during the COVID-19 pandemic," Azar said in a statement. "The Trump administration has worked to allow pharmacists — alongside all of America's heroic healthcare workers — to practice at the top of their license, empowering the public with more options to protect their health and well-being."
There are several requirements in the small print. For example, the vaccine must be approved or licensed by the U.S. Food and Drug Administration, and the licensed pharmacist must complete a special training program.
The Department of Health and Human Services said it decided to expand access to childhood vaccines to avoid preventable diseases in children, additional strains on the health care system and any further increase in avoidable adverse health consequences — particularly if such complications coincide with an additional resurgence of COVID-19.
"As a pediatric critical care physician who has treated critically ill children suffering from vaccine preventable diseases, I know first-hand the devastation to the child — and to the family and community — of a death or severe brain damage that could have been avoided by a safe and effective vaccine," Adm. Brett Giroir, assistant secretary for health, said in a statement. "The cornerstone of public health, vaccines, makes these dreaded diseases preventable. As we expand options during the COVID-19 response, we are also reminding parents, grandparents and caretakers that there is no substitute for a critically important well-child visit with a pediatrician or other licensed primary care provider when available."