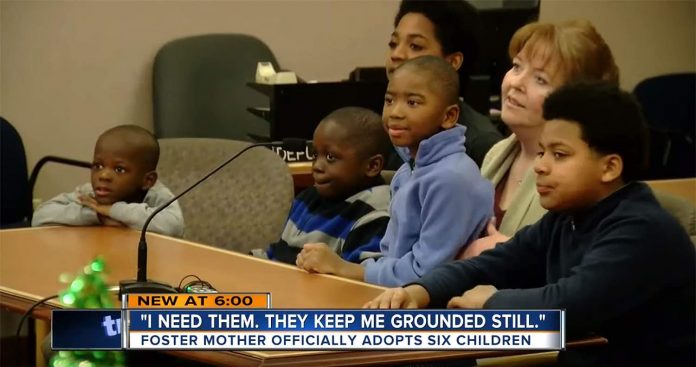 Jessica Benzakein, US woman who grew up in foster care adopts 6 boys.
Jessica Benzakein, a foster mom, has two biological children and adopted six boys Friday at Milwaukee County Children's Court, ranging in age from 4 to 17.
"Good things don't always happen in court, so when they do, they absolutely must be acknowledged," Judge Mark Sanders said.
Benzekein is now a single mom with a total of nine kids under her roof.
"Six kids got adopted today, but there are over 7,000 kids in foster care and that number fluctuates. It's always going up. It never goes down, so there's still plenty of other kids out there who need homes," Benzakein said.
"I feel good. I feel like this was the best choice I could have," said 13-year-old Sidney Brunner, who was adopted.
"Like the whole adoption thing doesn't really matter because we consider each other as a family no matter what," said 14-year-old Carter Brunner, who was adopted.
"Some days, you go to bed thinking I survived and that's the only win, so I'll take it, but you get up the next morning and think alright you know, let's just do this," Benzakein said.
Benzakein said she was a foster child herself, which is a big reason she's now giving back to other kids.