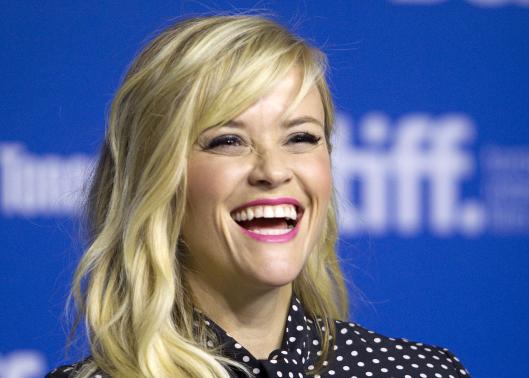 From the moment Reese Witherspoon tears off a bloodied big toe nail in the opening scene of her new film "Wild," it is clear the Oscar-winning actress is headed in a new direction.
It may be the best move she has made in awhile, offering the normally pretty and perky Witherspoon the chance to play a raw and angry woman venturing into the wilderness on her own, for 1,000 miles with a monster-sized pack to do one thing: save herself. The story is a real one, based on the best-selling memoir by Cheryl Strayed.
"Wild" director Jean-Marc Vallee demanded the mirrors in the make-up trailer be covered so Witherspoon wouldn't know just how bad she looked without make-up.
"It was raw, I had never seen myself in a movie like that before," Witherspoon said ahead of the film's showing at the Toronto International Film Festival on Monday.
In a year with many strong male film leads and few female ones so far, Witherspoon can take most of the credit for making this role happen: she contacted Strayed directly to buy the film rights after reading the book before publication.
"I just knew it would be one of the most important books in my life," said the 38-year-old actress and producer.
Witherspoon, who won the best actress Oscar for her 2005 role as June Carter in "Walk the Line," promised Strayed she would get the movie made quickly and not let it "languish around Hollywood."
For Strayed, everything Witherspoon said about why she thought it could work on film "thrilled me to the bone," and her gut told her she could trust the actress.
SELF-DESTRUCTION
Together they lined up a team that would be the envy of many a project: Vallee, the French Canadian director who had just made the acclaimed "Dallas Buyers Club" and British screenwriter Nick Hornby. Ironically, both men say they have an allergy to hiking.
While large parts of the film focus on Cheryl and the solitude of the grueling Pacific Crest Trail through the West, there is also the backstory that landed her there, presented in flashbacks.
Cheryl has lost her loving mother, played by Laura Dern, to cancer. She cheated on her husband by having sex with strangers and turns to shooting up heroin. She divorces and sets out on a journey for which she is woefully unprepared.
She runs out of food and water, loses her boots and is covered in sores. But between her bravery and the kindness of strangers, she endures 94 days.
After a screening at Telluride Film Festival last month, New York Times film critic A.O. Scott called her "an excitingly credible feminist heroine" and pundits speculated Witherspoon will earn a best actress Oscar nomination.
And to those who have suggested "Wild" is a "chick-flick," Vallee responded on Monday: "Chick-flick, my ass."
The Fox Searchlight picture opens Dec. 5 in North American theaters.