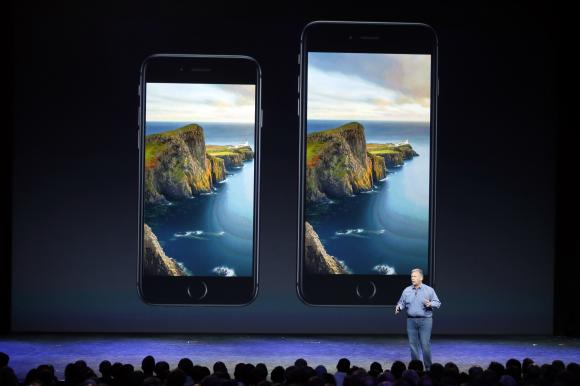 long-awaited launch of tap-to-pay technology in its new iPhones and smartwatch may be the seal of approval that near-field communication technology needs to become as commonplace as wifi, Bluetooth and GPS.
Called NFC, the technology lets smartphones communicate wirelessly with other devices such as point-of-sale terminals by holding them together. While proponents have argued for years that it is ideal for secure payment systems that could eventually replace credit cards, none have taken off.
At a gala event on Tuesday, Apple Chief Executive Officer Tim Cook uncorked Apple's attempt at mobile payments, called Apple Pay, using NFC chips built into the company's two new iPhones and Apple Watch.
NXP Semiconductors NV's (NXPI.O) dominates the market for NFC chips with Broadcom Corp (BRCM.O) accounting for much of the remainder. Chipmakers including Qualcomm (QCOM.O), MediaTek Inc (2454.TW) and Marvell Technology Group Ltd (MRVL.O) have their own NFC offerings and will have a chance to stake out more significant market share if Apple sets off an explosion in mobile payments.
Samsung, Motorola and other manufacturers already include NFC in many Android smartphones, and some mobile-payment inroads have been made in Asia. But with major payment systems like Google's Wallet failing to catch on, the technology has remained far from standard in handsets.
Now, trend-setter Apple's adoption of NFC looks likely to provide the technology the long-needed respect it needs.
"Apple not supporting it always called some people to question its viability," said James Anderson, senior vice president of mobile and emerging payments at MasterCard (MA.N), which supports Apple Pay. "All those questions have gone away now. I expect NFC will be the predominant technology for point-of-sale payments between a smart device and a merchant terminal."
Manufacturers included NFC chips in about 300 million smartphones last year, equivalent to around a third of all smartphones shipped. The number of NFC-enabled phones this year is expected to keep growing and reach around 550 million devices, helped by Apple's devices and an expanding number of Android gadgets, Gartner analyst Mark Hung estimates.
As well as phones, NFC technology is being built into point-of-sale devices, video game consoles and medical tools. Shipments of NFC chips are expected to reach 1.64 billion units in 2018, according to market research firm IHS iSuppli.
NXP's stock surged 16 percent in the past month as investors bet the Dutch company's chips would be used by Apple. NXP, which declined to comment, already supplies sensor coprocessors for the iPhone.
Selling NFC and related security chips for the iPhone could mean an extra $230 million in revenue for NXP next year, according to Pacific Crest analyst John Vinh.
NEED FOR CHIPS TO SECURE DATA
The use of NFC for mobile payments also opens the door to selling more "secure element" chips used to safeguard vital credentials like account numbers.
"For there to be a full payment solution there needs to be not only an NFC radio but also a secure element chip, which obviously increases the dollar content opportunity for chipmakers like NXP, but also provides a more robust and secure solutions for the mobile payments industry," Vinh said.
Chipmakers ST Microelectronics (SMT.BK) and Infineon Technologies (IFXGn.DE) have a strong presence in secure element components and have plenty of scalability should the technology take off, said IHS iSuppli analyst Don Tait.
NXP had a 59 percent share of the NFC chip market last year, but rivals are ramping up their own offerings. Broadcom has a third of the market and is integrating NFC features onto "combo" chips already packed with wifi, Bluetooth and GPS.
Qualcomm, the world's leading chipmaker, has been late to the game but last year launched its first NFC chip as have smaller rivals.
"Today's news is a welcome indication that NFC technology is realizing its potential," said David Favreau, vice president of product management at Qualcomm. "We have seen the growth of NFC in other geographies and expect it to become a standard feature for mobile devices."